Louis Smith was a part of our community and he will be greatly missed. Louis and his wife Lulu not only brought awareness to aphasia, but they also brought a spark to our world. Louis was tenacious. With the help of Lulu, he fought his way back from a devastating stroke that took away his ability to speak – and perhaps worse for him, his ability to play music. 
Below is an overview of Louis' role in the aphasia community and a tribute from our Speech-Language Pathologist Gordon Krainen, who worked with Louis and developed a close friendship.
 – Carol Persad, Director of University Center for Language and Literacy
On Saturday, August 20, 2016, Ann Arbor and the aphasia community lost 
Louis Smith
. Louis was a jazz teacher and world-renowned trumpeter, producing 14 albums and playing with music legends like Miles Davis, Count Basie and Thad Jones. He also had aphasia.
Raising Aphasia Awareness
Smith's talent was seemingly lost when he had a stroke in 2005 and experienced aphasia and partial paralysis as a result. That was until the 
music
 was introduced as part of his treatment. "He lit up when music was involved," senior speech-language pathologist
 Dr. Gordon Krainen
 explained. Not having use of his right hand, Smith picked up his trumpet and learned how to play again with his left hand. He also began to sing, something he didn't do as a performer before the stroke. Smith's progress was a unique story which inspired others and helped raise aphasia awareness.
In 2013 he joined Krainen and music therapist Lynn Chenoweth at the American Speech and Hearing Association (ASHA) conference and played three jazz tunes to demonstrate how jazz music activates and uses the same part of the brain that manages speech.
"Nearly 200 people jumped to their feet in applause, half appeared to be crying. I think I was," stated Krainen.
UMAP Jazz Tribute to Louis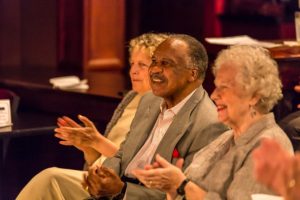 One Last Performance
One of Smith's last performances was at UMAP's 2015 Jazz Tribute, where he was the center star. Chenoweth, accompanied by Krainen, helped Smith launch into Georgia on My Mind, followed by Amazing Grace. Smith's singular voice rang out over the crowd, until everyone joined in the moving moment, tearing up and singing along. Later, when the Paul Keller Ensemble played Smith's composition of Ande, Smith bebopped along to the music with an incredible melodic nuance, playing the trumpet part using only his voice.
"It was six choruses of official bebop language — each chorus better than the last — just like the old Lou Smith," Paul Keller said. "He was communicating in real time, quick time, with the other musicians. Ideas and jazz vocabulary were flying everywhere and the musical conversation was meaningful and profound."
During the Tribute, a special decree from the Mayor of the City of Ann Arbor was read, declaring June 14 as Louis Smith Day in recognition to his contributions to the fabric of the community — as well as his tenacity in fighting his way back from a stroke. Guest speakers, including former colleagues and students, shared stories about Smith's strength and love of music. The tribute opened the hearts of the audience and raised thousands of dollars for the aphasia program, making it possible to offer scholarships.
---
A Hero with Aphasia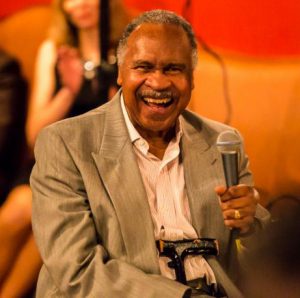 by Gordon Krainen, Speech-Language Pathologist for University Center for Language and Literacy, University of Michigan Aphasia Program
Some individuals, when confronted with great challenges, crumble and give up. Others rise to the occasion and continue on to do meaningful things with their lives. I would like to offer you an example of the latter. Louis Smith was such a man. Louis had his stroke about 10 years ago, and it was major.
He was left without any verbal language and also had problems with auditory comprehension. His prognosis so bleak that his wife, Lulu, was advised by some not to have him return home. But Lulu would have none of that.  She took him home and made sure he got outpatient speech treatment at UMAP. Not only was he severely aphasic, but he was wheelchair bound and his right side was paralyzed. Once a world-renowned musician, he could no longer play his trumpet. He was starting from scratch on just about everything.
Slowly, over time, Louis began to make gains. He started walking with a cane with the help of physical therapy and his auditory comprehension was showing progress in speech treatment. He attended music therapy to re-learn the trumpet. His musical knowledge and love of music appeared to be retained as he could hum all sorts of jazz tunes and even contribute some lyrics to songs he knew. The man who some suggested should have been relegated to a vegetative state in a nursing home was rallying in a big way! He and Lulu attended jazz concerts and restaurants locally in Ann Arbor as well as frequent trips to far away cities and countries in pursuit of jazz clubs and visiting old friends.
Although Louis could not speak beyond some jargon words, he always had a huge smile, twinkling eyes, and gestures that made his listener an instant friend. He also had a way to fill you in on a private joke with his facial expressions and gestures. He was forever on stage and entertaining. Louis re-learned to play his trumpet with his left-hand and weakened lips. He knew every jazz tune by heart. If you called out a tune, he could play the basic melody by ear. He even started to improvise jazz and blues.
As a tribute to his amazing career and legacy, UMAP planned a special day of jazz honoring Louis in 2015. One could not have imagined what his life might have been like if the negative advice was taken and he was not given the chance to soar with rehabilitation and reconnection to music. If you knew Louis, you were fortunate, as he made everyone's life he touched better. His legacy lives on in the lives he touched and enriched.