University of Michigan Aphasia Community (UMAC – formerly ACE) is a group communication program where you can meet others with aphasia, while boosting your language skills in a supportive environment. All members of the aphasia community are welcome and invited to join us.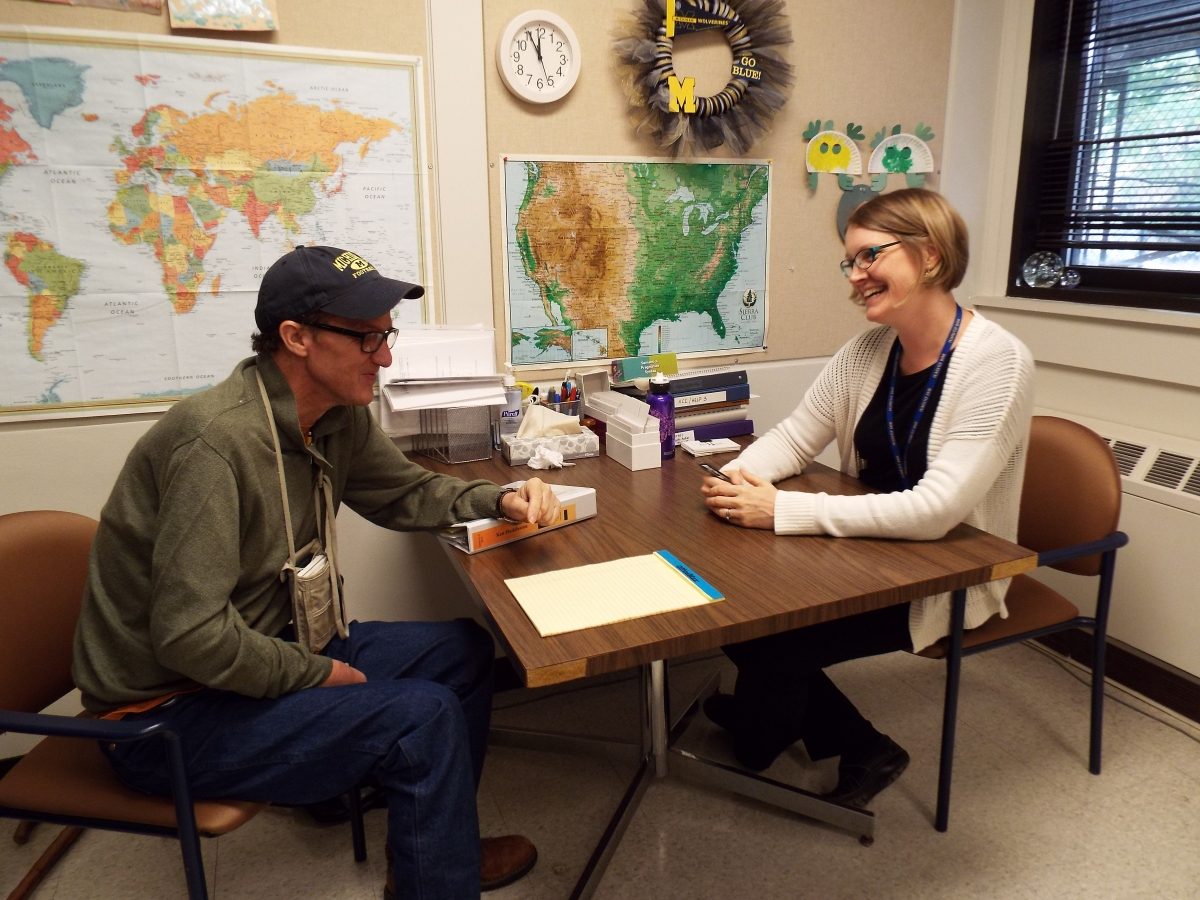 ---
Program Highlights
High-quality, low-cost group enrichment.
Variety of group sizes, topics and skill building.
Run by licensed Speech Language Pathologists.
Increased confidence in community participation.
Emphasizes functional communication for those of all communication abilities.
Contact us at (734) 764-8440 or ucll@umich.edu if you'd like more information or to register.
Upcoming Dates and Details
When
9 – 11:45 a.m. on Wednesdays
2018 Dates
September: 5, 12, 19 and 26
October: 3, 10, 17, 24 and 31
November: 7, 14 and 28
(No meeting during Thanksgiving week)
Cost
$140 for four sessions. Registration fees are due at the time of registration to reserve your spot.
Location
U-M Facilities Planning and Development Bldg
2101 Commonwealth Blvd.
Ann Arbor, MI 48105
Suite B, conference rooms 1301 and 1309. (Suite B doors face Commonwealth Blvd, near the flag poles.)
Call (734) 764-8440 to register.
Session Details
Attendance at all sessions is recommended, but you're welcome to attend whichever sessions work best for you. Registration is required. Each session is typically broken into two segments, but depends on group size:
9-10:30 a.m.: Large Communication Group 
Talk with your peers about current events, share personal stories and take part in language building activities. Participants often become friends and provide each other with ongoing emotional and social support.
10:30-11:45 a.m.: Smaller Communication Group 
This specialized session targets verbal expression, multimodal communication and auditory comprehension through creative activities. In the past, members participated in an aphasia friendly toastmaster group while others used technology to improve their communication skills. Upcoming sessions will include a book club.
Facilitated by a certified Speech-Language Pathologist (SLP), a clinical fellow, interns, and volunteers.
Call or Email to Register
Contact us at (734) 764-8440 or ucll@umich.edu if you'd like more information or to register.
You can also download the 2018 UMAC Flyer (PDF). Share the flyer with others, or use it as a reference for dates and times.