Caregivers play an important role in the recovery process. While clients are hard at work in therapy, caregivers are also learning how to adjust to a new way of life. The UMAP Care Partner Education series helps caregivers, family, and friends sort through the information and emotions related to aphasia.
This page is to provide an overview of what care partners have access to during a U-M Aphasia Program session.  We hope to provide general caregiver resources for before and after the program as well. If you have any questions about the resources or the care partner programs, please contact us at (734) 764-8440.
"One of the most important aspects of caregiving is educating yourself on what aphasia is and how we can best communicate with our loved ones." UMAP Client Care Partner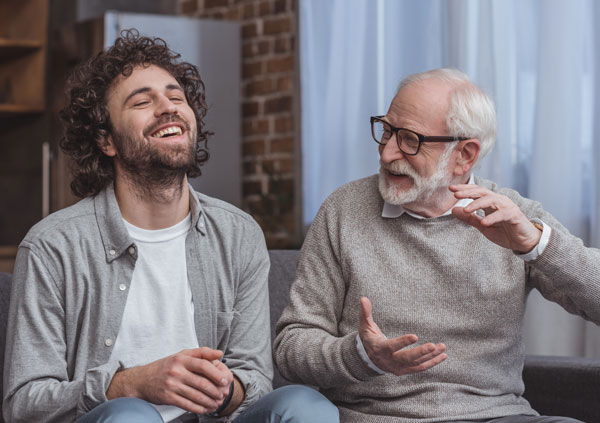 UMAP Caregiver Education and Support
Caregiver Education
U-M Aphasia Program clinicians conduct educational workshops for care partners over the course of each session. They cover such topics as:
Why intensive therapy?
Creating your intensive therapy schedule back home.
What is aphasia?
Using technology to aid communication.
Supportive conversation techniques.
Introduction to the caregiver resource library.
Hands-on communication practices.
The importance of self-care for caregivers.
Caregivers are encouraged to attend designated therapy sessions to learn how to best communicate with the client. Your clinical team can talk to you about which sessions might be best.
Additionally, if care partners are interested in connecting with other aphasia caregivers or in exploring social opportunities, please let us know. We can work with each session's care partner group to facilitate fun and recreational activities.
"I just didn't realize how much I would get out of the program as a caretaker.

It's not only your loved one who will benefit by growing their ability to speak, but you will also benefit greatly from the support system at UMAP.

It's a win-win!"
Caregiver Group Support
We also offer a series of group meetings for care partners of UMAP participants during each session. By "care partners" we mean spouses and partners, parents, children, other family members, friends, professional care providers or aides — and anyone else who is present in support of a UMAP participant.
The purpose of these meetings is to provide information, share resources and strategies, and to ask questions, share concerns, and discuss challenges as well as triumphs, with both UMAP clinicians and other care partners.
Topics of discussion include but are not limited to:
Communication

Verbal versus non-verbal
Multimodal communication tools and strategies
Supported conversation techniques to facilitate overall communication success and reduce frustration

Aphasia

What can cause aphasia?
Which aspects of language can be impacted by aphasia?
How is aphasia type determined?
What kinds of evidence-based therapy approaches are used at UMAP to treat aphasia?
How is aphasia different from motor speech disorders like apraxia and dysarthria?

Co-occurring difficulties that can impact treatment and recovery, including:

Physical limitations
Hearing impairment
Visual deficit
Difficulties with cognition (memory, attention, problem-solving, etc.)
Fatigue and chronic pain
Mood and emotions

Speech-language therapy

General process
Restorative versus compensatory treatment goals
How do we track progress?
How do we promote generalization and carry-over of skills to daily life?
Benefits of intensive therapy
Teletherapy options

Common caregiver concerns

Insurance coverage
Related rehab services (OT, PT, etc.)
Medications
Returning to driving
Returning to work
Emergency situations (medical alert buttons, aphasia cards, etc.)
Traveling with aphasia
The impact aphasia can have on daily life

Aphasia resources

Suggestions for apps, websites, online support networks, workbooks, journal articles, magazines, books, films
Recommendations for continued therapy services or home programs

Care partner experiences

Stress, fatigue, grief, burn-out
Self-care, respite, stress management and coping strategies

Aphasia advocacy
In Their Words: Recent Caregiver Stories
Let's Talk
Do you have questions about our care partner programs or the U-M Aphasia Program in general? Let's talk. Fill out this form or call us during regular business hours at (734) 764-8440 and we will be in touch with your shortly: