UMAP is a home away from home for our clients.
Ann Arbor is a vibrant college town, so there is a variety of housing available through hotels, condos, short-term rentals, housing exchanges and peer-to-peer renting like Airbnb or sabbatical rentals. While housing is not included in our program, we put together a housing and transportation guide to help you make plans for your session.
We don't make recommendations, but we do partner with several hotels around town that offer perks such as shuttles pick up and drop offs. Please review our housing guide, available here, for more details on where to stay and how to get to and from UMAP.
Contact Dinah Young at (734) 763-3216 or dinyou@umich.edu for assistance.
Clinic Location
1111 E. Catherine St.,
Ann Arbor, MI 48109
PLEASE NOTE: GPS and map tools sometimes have a hard time finding the UCLL offices, where the U-M Aphasia Program is offered. If you search for University Center for Language and Literacy (UCLL) instead of the address, it will likely find our location easier. Alternately, you can enter Angelo's restaurant as your destination. We are directly across the street.
"With experimental new art spaces, a thriving gallery scene, and a burgeoning cocktail culture, this midwestern city offers much more than the typical college-town charms."New York Magazine
Culture, Arts, Food, and Fun: Ann Arbor
Ann Arbor is an eclectic place, alive with energy throughout the year. While the University of Michigan is central to the town's identity, we are much more than a place for higher education.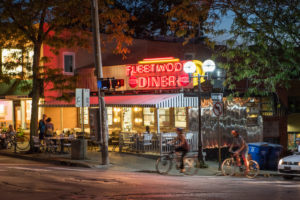 The food and restaurant scene is one of the town's pride points, featuring international institutions like Zingerman's and hidden local gems such as Monahan's Seafood Market food counter. Throughout the year there are local celebrations like the Book Festival, the vibrant farmer's market, Hash Bash, the Art Fairs, SummerFest, and many more. We also make sure to include social outings each session, so we can act as your guide to exploring the different sides of Ann Arbor.
To learn more about what Ann Arbor has to offer, visit the Ann Arbor Tourism Bureau or ask one of us!
Nearby Attractions
Ann Arbor is situated less than an hour from Detroit, Lansing and Toledo — all of which are worth a visit. Three out of the five Great Lakes are also within a two-hour drive, providing access to some of the most beautiful scenic areas in the country.
For a caregiver's perspective on attractions to visit, check out Anna's Things To Do, a guide to interesting places in Michigan, curated by Anna Teal. In it Anna shares some of the places she and her husband, Ryan, visited when he attended UMAP in 2018.