Get to Know the Mary A. Rackham Institute
Welcome! Thank you for your interest in joining the MARI team! This page is to help you get a better sense of who MARI is and what we have to offer our trainees. We invite you to:
Get to know the people behind MARI's training programs.
Meet former trainees and see where they are now.
Get a sense of MARI and what we offer the community and our clients.
Learn about Ann Arbor and the community.
MARI Training and Internship Opportunities
If you'd like more information on the various MARI training opportunities, visit our training opportunities webpage to begin.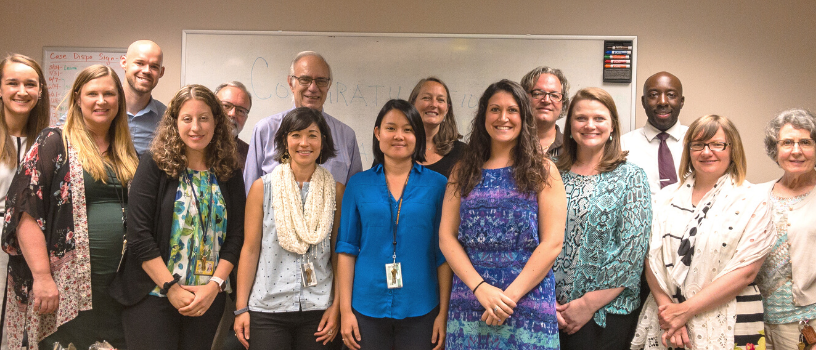 What Makes MARI Different?
Our collective experience and commitment to training sets MARI apart. Our clinical experience is both broad and deep. Our clinicians have expertise in traditional as well as cutting edge modes of providing therapy.
One of the main tenets of MARI, since we were established more than 80 years ago, is to train the next generation of practitioners. We approach training as a two-way street opportunity: we are committed to passing along the knowledge we have acquired, while also learning from each new trainee.
Scroll down to learn more! 
Get to Know: MARI Mentors
What MARI Mentors love about the MARI Training Program
"

F

or me, supervision is opportunity to teach as well as learn. I can increase the fidelity around what I do clinically, but I also learn from the perspective of the clinicians I supervise."
"

I enjoy getting to know supervisees and the unique perspectives they bring to clinical work, including their previous training, lived experiences, and worldview."
Get to Know: Our Trainees Past and Present
The MARI Experience
"

MARI is filled with genuinely kind humans who provide strong clinical training and supervision. As an intern, I was able to find space to build out a space to develop professionally, clinically, and in leadership.

"
---
"

I appreciated the integrative approaches and exposure to a variety of evidence-based treatments. Above all else, MARI was special due to the high caliber of supervision and the warm, supportive, faculty and staff.

"
---
"

Diversity in supervisor's theoretical orientation and expertise, genuine interest in helping interns reach our unique training goals, incredibly kind and intelligent supervisors and trainees that I would definitely stay in touch with.

"
---
"

MARI's focus on training interns in multiple theoretical orientations and clinical techniques was incredibly valuable. Understanding these perspectives continues to help me to be a better clinician and supervisor.

"
---
"

I feel my experience at MARI made me a very well-rounded, integrative clinician and helped prepare me for success after internship!

"
---
MARI Training: 2020 Numbers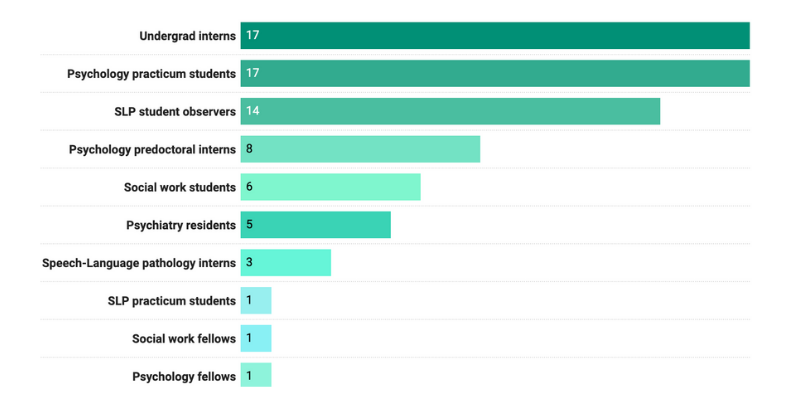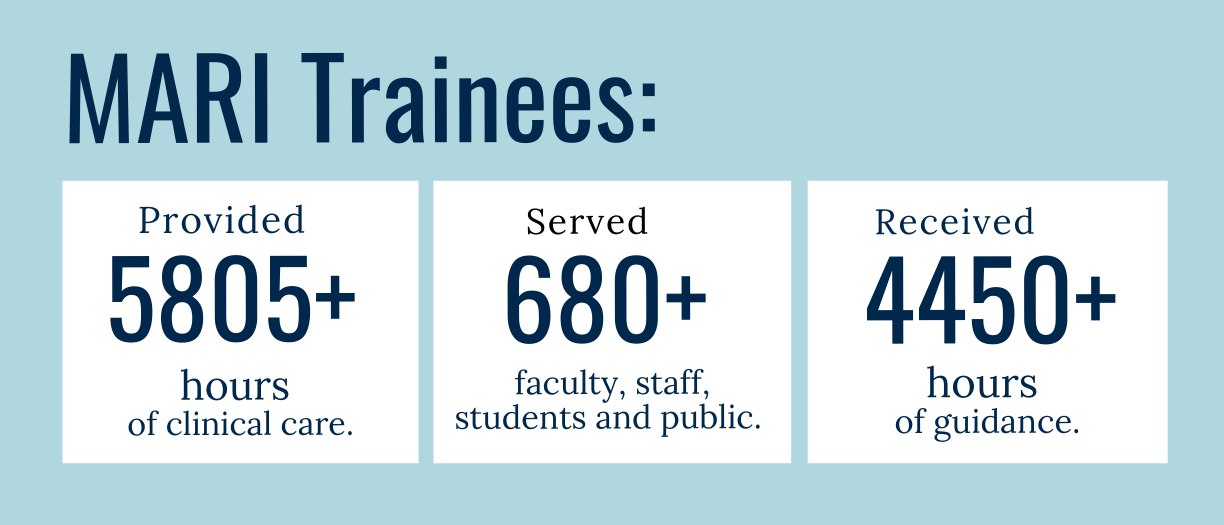 Get to Know: MARI Programs and Values
The Mary A. Rackham Institute (MARI) is comprised of units that focus on a different aspect of mental, developmental and literacy health. We offer services such as individual and group therapy, one-on-one intensive sessions, assessments, testing and evaluations, and resources like free workshops to help members of our community.
University Center for Language and Literacy (UCLL) - UCLL offers intensive language and literacy evaluations and intervention services for children, youth, young adults, and adults.
University Center for the Child and Family (UCCF) - UCCF provides mental health services to children, couples, and families through individual and group therapies and evaluations.
University Psychological Clinic - The Psych Clinic provides mental health services for those who are 18 years and older and includes individual and group therapy.
Destination Programs - MARI is home to several destination programs, including the U-M Aphasia Program (UMAP), Autism Consultation and Treatment Services (UM-ACTS) program, and MARI Testing Services.
---
MARI's Core Values
Compassionate, science-informed services

Excellence in clinical training

Quality of life

Respect for diverse values and goals
---
MARI Annual Report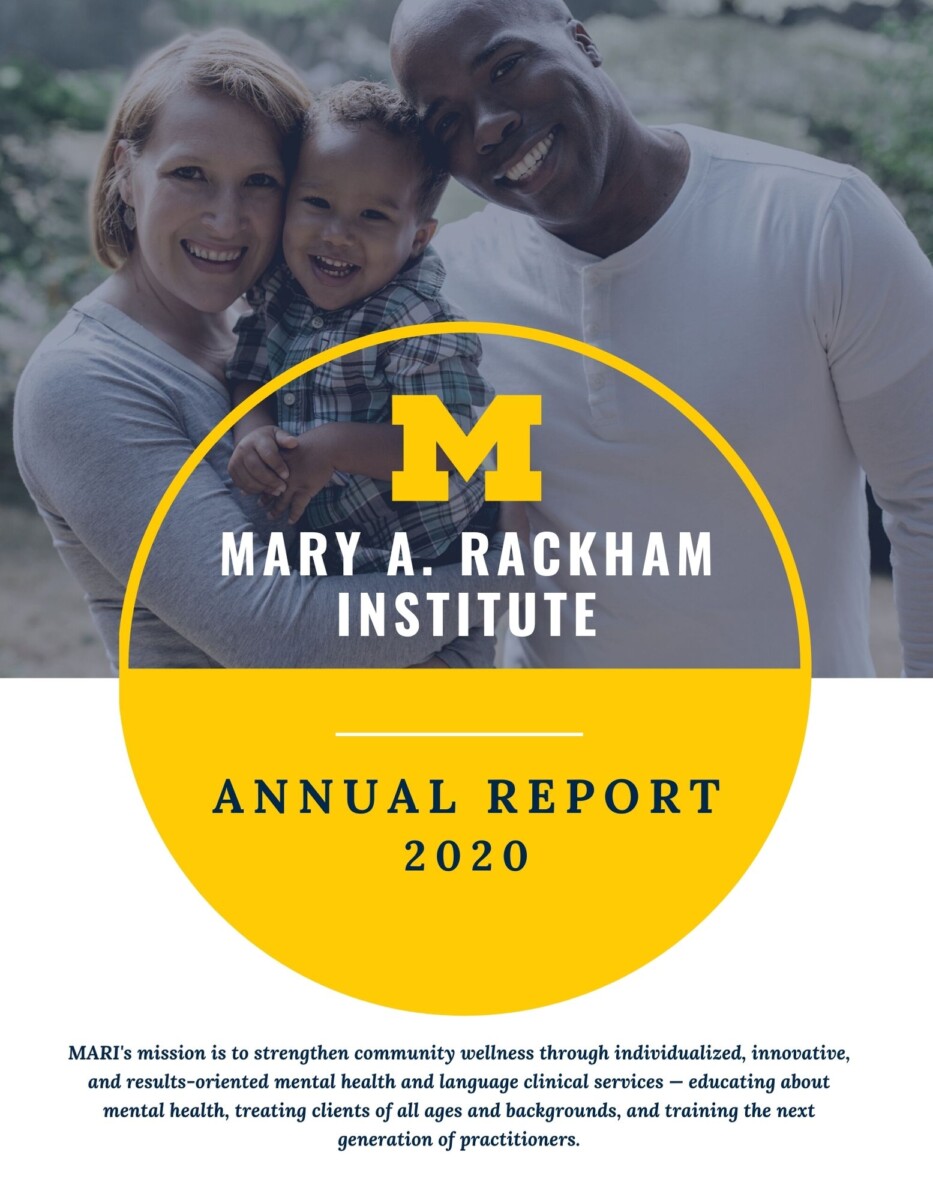 The MARI 2020 Annual Report is a snapshot of the work MARI does and the impact we have had in the past year. In it, you will find information about training, our clients and staff, and our involvement with the community — both at the University and beyond.
Age Ranges of MARI Clients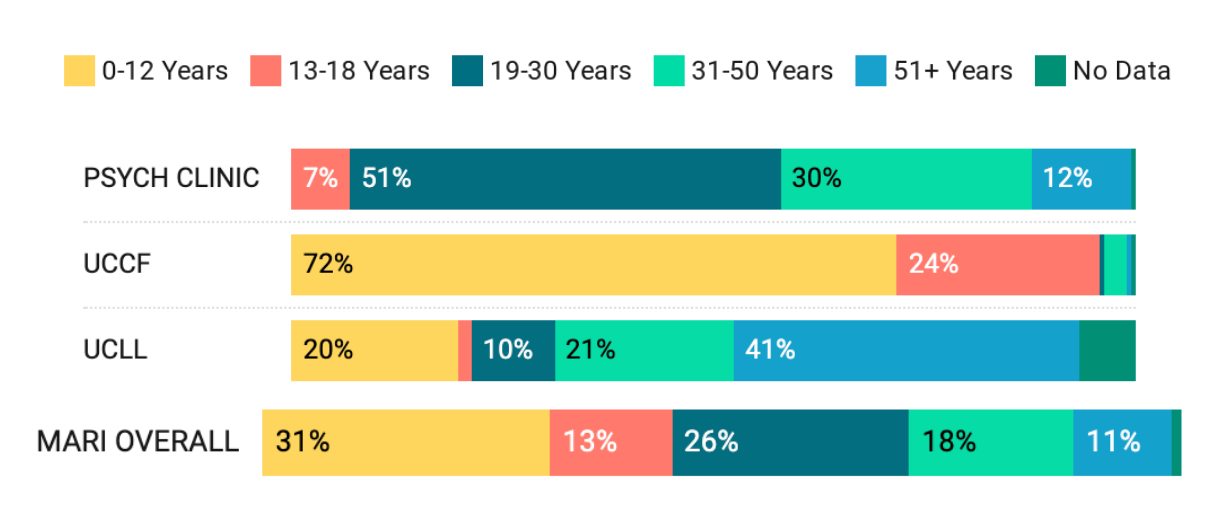 Race and Gender Identity of MARI Clients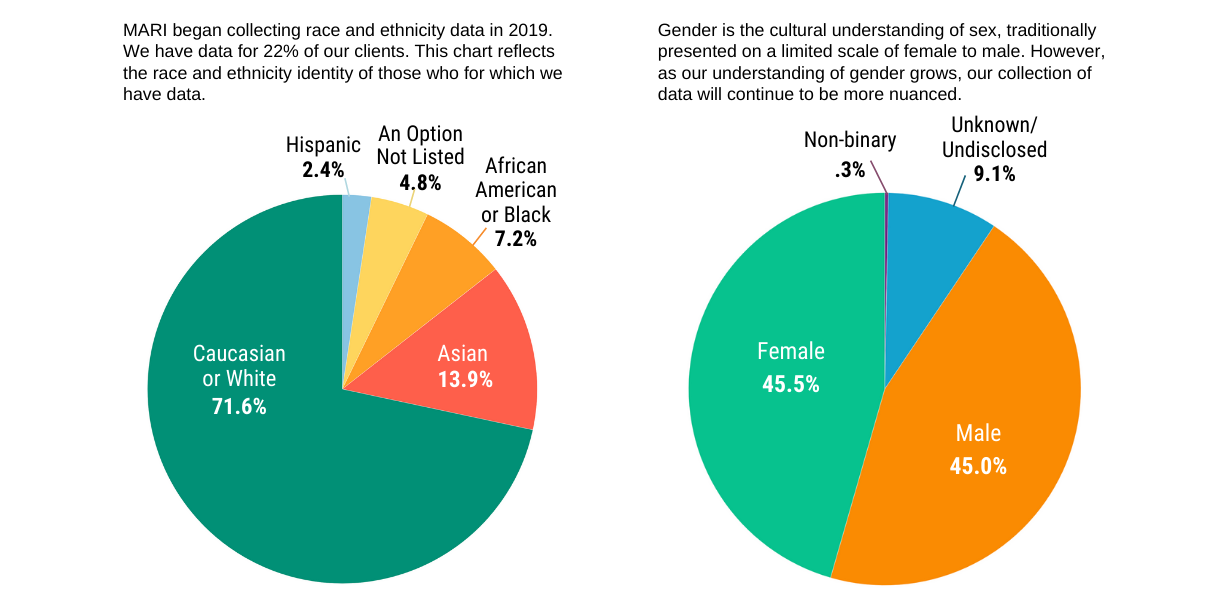 Payor Mix: FY 2020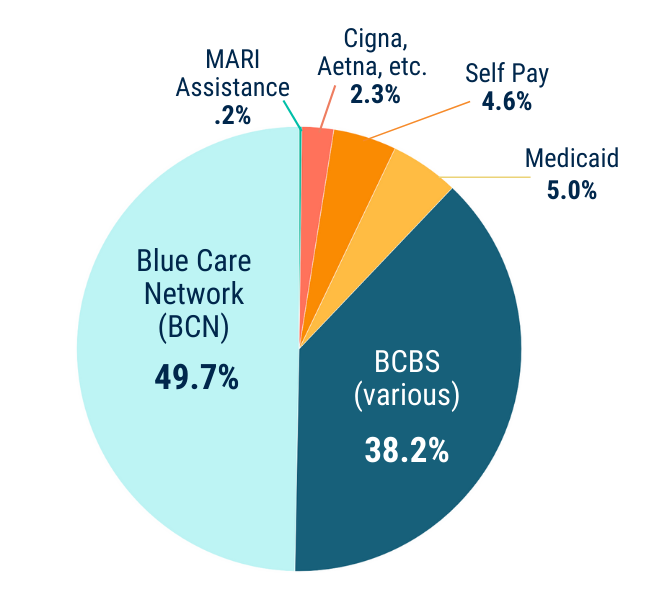 ---
---
Client Requested Services During Fiscal Year 2020



MARI's Commitment to Diversity
In the past, MARI has formally committed to making diversity, equity, and inclusion a core tenet of our organization for both our clients and our staff. As part of that commitment, we have routinely required all staff to participate in training on unconscious bias, harassment, and ways to embrace equality. However, when confronting systemic racism, it's not enough.
As an Institute committed to compassionate, evidence-based mental health and language and literacy services, we have a clear role to play in dismantling racism and white privilege. We recognize the importance of reflection and commitment to change—to examine any roles our Institute may play in inadvertently upholding these inequities and addressing how we can better serve our communities.
We at MARI are currently working on our five-year strategic plan and are including DEI-specific initiatives to examine and develop action and accountability plans to address racism and privilege at MARI. We invite all staff to reflect on concrete actions they can take in their roles here at MARI to be inclusive and equitable and to help push us to move forward and do better. 
Get to Know Our Home: Welcome to Ann Arbor!
Ann Arbor is often listed as a great place to live, work, eat, and explore (see: lists of the nation's "top," "great" and "best" places to live) — cited for a diverse array of attributes like being innovative, educated, digital-forward, green, healthy, and family friendly. Previous interns as well as our faculty and staff often note they loved Ann Arbor because it combines the amenities of a bigger city, but with the charm of a small town.
General resources to get you acquainted:
We love our town and know you will too! Click through for additional resources, provided by the U-M Medicine Go Blue Guides to help you get a sense of what the area has to offer. (Note: these link offsite to the U-M Medicine resources; MARI is not part of U-M Medicine, but is housed on Central Campus).
The MARI Offices
MARI is housed at two locations near the central campus of U-M. Training primarily takes place at the 500 E. Washington Office.
During the COVID-19 pandemic, MARI went fully remote and has been slowly reintegrating in-person services with precautions in place. The pandemic has changed how we provide care and we will likely return to a hybrid work model, incorporating both remote and in-person work as we move forward.
While these images were taken during COVID, with spacing and precautions in place, they should help give you a sense of our office space.