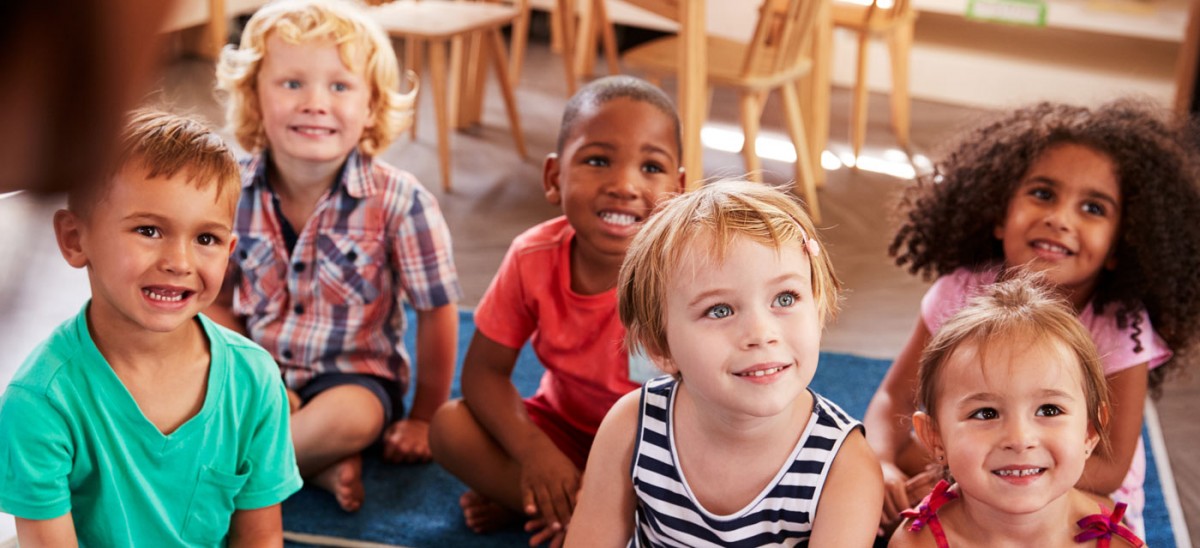 UCLL offers several options to help children, teens and young adults build their speech, language and literacy skills. This page explores early language development in children through our intensive, small group services for children four and under.
About PACT and Core PACT
The Preschool and Communication Therapy (PACT) program addresses the communication needs of children 3-4 years old. Our Core PACT program is offered less frequently, serving 18-36 months old who are struggling to learn language.
The program typically runs seasonally. If you are concerned about your child's language development, we can also provide an evaluation and/ or individual therapy for them.
We have a nearly 1:1 ratio of adults to children in the program, so each child receives individualized attention as well as the benefit of the group. Each session is staffed by two certified and licensed Speech-Language Pathologists, a graduate student intern, and undergraduate student volunteers. We find that the children learn better when an adult is able to give them the support they need.
Children who attend the programs typically have limited speaking vocabularies, an inability to follow simple 1- or 2-step instructions, a delay in sharing interests with others, poor eye contact, and a lack of demonstrating pretend play.
*PACT and Core PACT are generously supported by the Linda Atkins Memorial Fund.
Other UCLL Services for Children and Teens
Reading and Literacy Intervention

The reading program is for children in grades K-8. It offers different services, including a general assessment, as well as individualized sessions. Learn more: Reading and Literacy Program

Testing, Consultations and Evaluations

Our specialized testing, consultations and evaluations can help figure out both strengths and weakness within a child's speech-language development and will help us build a plan of action to help them excel. Learn more: UCLL Consultation Services
Preschool And Communication Therapy (PACT): Overview
Preschool and Communication Therapy (PACT)
---
For children ages 2-4 years: PACT is 2 hours of therapy per day, 4 days per week, for 4 weeks.
To find upcoming sessions, please visit the News and Events page. 
Preschool and Communication Therapy (PACT) is structured, play-based learning that addresses the communication needs of children ages 2-4 who are struggling to learn language.
PACT:
Builds your child's verbal and nonverbal communication.
Integrates you into the intervention team.
Teaches participants to be respectful of values and differences.
Teaches age-appropriate participation skills, reading, and writing.
Helps parents manage environmental stressors.
Includes pre- and post-assessments of your child's language skills, pragmatics and play. Number of participants is kept low to ensure quality interactions between clinicians and each child.
Program components include a total of 32 hours of therapy:
Therapy in the group classroom setting.
Individual therapy with a speech-language clinician.
*A parent/guardian must attend the weekly parent education and support meetings. They also must be an active participant throughout the program in order to learn interactive strategies to carry over into the home environment.
Get Started: Secure Online Application
Is this Program Right for My Child?

---
If your child has one or more of the following, he or she may be a good candidate for PACT:
A decreased vocabulary or difficulty communicating wants and needs
Difficulty following directions
Difficulty playing with toys appropriately or demonstrating pretend play skills
Difficulty sharing interests or activities with peers or adults
Decreased eye contact
This is not an exhaustive list of characteristics that children in need of language assistance may exhibit. Please contact UCLL if you have specific concerns about your child or to schedule a language and literacy evaluation.
Get Started: Secure Online Application for PACT and Core PACT