If you suspect you or a loved one has a speech-language disorder, delay, language-based learning disability, or other challenges that are related to communicating (reading, writing, speaking, understanding), contact us to schedule an evaluation. If a diagnosis has already been made, we also offer consultations to provide you with recommendations and/or services for treatment. We have expertise in assessing as well as developing plans of action following a diagnosis.
MARI language and literacy testing can address:
Aphasia
Agraphia
Articulation/phonology disorders
Autism Spectrum Disorders
Dyslexia
Language disorders and delays
Literacy challenges (reading and comprehension)
Motor speech disorders (dysarthria, apraxia)
Social language disorders
Specific learning disabilities
Other developmental or acquired speech-language disorders and deficits
Language and Literacy Consultations
Our language and literacy consultations provide strategies that will help you or a loved one move toward academic success. During these consultations, we can:
Attend IEP meetings
Attend multidisciplinary evaluation team (MET) meetings
Offer guidance
Provide recommendations and/or services
Review professional medical or school reports
Review individual education plans (IEPs)
Our language and literacy experts are here to answer your questions and provide for your educational needs. For more information about evaluations, please contact the MARI call center at (734) 615-7853.
Evaluations
Our comprehensive language and literacy evaluations assess the speech, language, reading and writing skills of individuals at any age who struggle with speech, language, and literacy. The length of the evaluation varies depending on the client as well as the speech-language disorder being assessed. Following the evaluation, clients and their caregivers are provided with a comprehensive report outlining both the client's present level of functioning and recommendations for speech, language, or literacy therapy, activities for home, and school supports.
Our clinicians are master's-level speech-language pathologists who are certified by the American Speech Language Hearing Association. Our evaluations provide the information needed to overcome speech, language, and literacy difficulties and to ultimately succeed academically and otherwise. We perform two main types of language and literacy evaluations, highlighted below.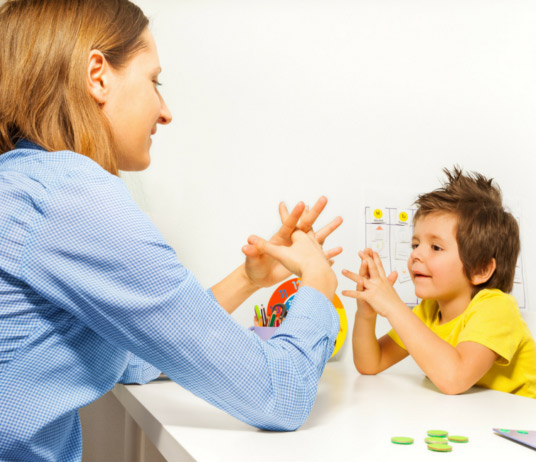 Speech and Language
Assessment
Evaluations range from 2 to 4 hours depending on age and the type of language problem being assessed. Formal and informal tools are used to examine:
Speech and articulation
Expressive language
Receptive language
Pragmatic/social language
Phonemic/phonological awareness
Learning Disorders Assessment
If you or your loved one is struggling to learn how to read or write, UCLL offers a comprehensive neuropsychological evaluation, conducted by a Ph.D. Clinical Neuropsychologist in conjunction with a speech-language pathologist to assess for language-based learning disorders. We not only look for areas of weakness but also areas of strength to help identify strategies to overcome the learning problems.
During the evaluation, we will also assess for other factors that may impact learning such as ADHD, memory and mood factors. Evaluations range from 6 to 8 hours depending on the age and learning issue. Formal and informal assessment tools are used to examine areas such as:
Cognitive ability
Academic achievement
Learning and memory
Attention and executive functioning
Vocabulary and sight reading skills
Reading fluency and comprehension
Spelling
Written expression