Learn About the U-M Aphasia Program
The UMAP website has a lot of information about our program and it may be overwhelming to figure out where to begin. So, we've provided the following four key parts to help you decide if the U-M Aphasia Program is right for you.
UMAP in 4 Parts
Part 1: A video with insights into the program.
Part 2: A list of program components.
Part 3:  What it's like to have aphasia? Our clients answer.
Part 4: Program costs and dates.
Part 1: Inside an Intensive Aphasia Therapy Program
This five-minute Inside UMAP video provides a quick look into our program's intensive, innovative, and individualized approach to aphasia therapy. Check out what makes us different and get a glimpse into what it's like to attend UMAP.
Scroll down for the next steps, including program details, client and care partner accounts, program rates and more.
Part 2: U-M Aphasia Program Therapy Overview
What Does UMAP Include?
Sessions run 3-5 weeks
24 hours of therapy each week
Group therapy
Practice a Life Participation Approach to Aphasia (LPAA) therapy
Social and recreational activities
Music therapy
Computer and technology learning
Caregiver curriculum
Tailored to you
Full time, but part-time options are also available
Customized exit plan so you can continue your progress at home
NEW: Teletherapy for current and recent clients. (Contact us or ask your SLP for more details.)
To learn more about what makes the U-M Aphasia Program stand apart from other programs, visit Program Components.
In Their Words
"You really don't know what the program can do for you until you experience it first hand, but if anyone is looking to make progress or get over a spot they seem to be stuck, UMAP is the place to be."
---
"My sister has greatly improved with this program. Stellar experience!"
---
"I just didn't realize how much I — a caregiver — would get out of the program. It's not only your loved one who will benefit by growing their ability to speak, but you will also benefit greatly from the support system at UMAP. It's a win-win!"
Part 3: What It's Like to Have Aphasia - and How Does UMAP Help?
Clients discuss what it's like to have aphasia, how their lives have changed, what they wish other people knew about aphasia, and their experiences attending the U-M Aphasia Program.
---
Theron: "Dude, aphasia is hard..."
---
Jo Anne: "There was hope."
---
If you would like to read or watch additional client and care partner stories, go to: Success Stories 
Part 4: Program Costs and Session Dates
"It is a very good program and well run. It's well worth the fee."
---
"ICAPs (intensive, comprehensive aphasia programs) are the best treatment — everyone should have the opportunity to participate early and often! The expertise of UMAP's speech language pathologists was so instrumental to my husband's progress."
---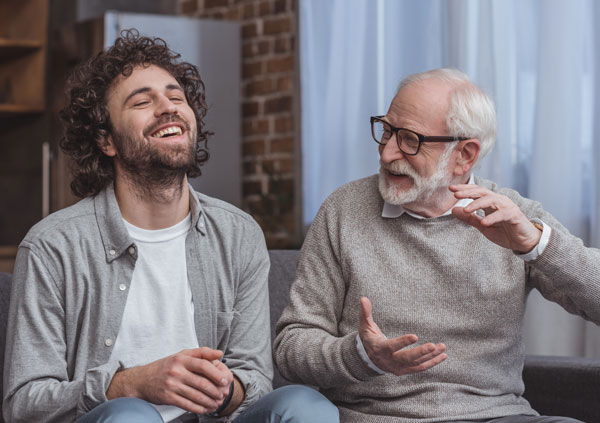 Costs and Financial Assistance
The average full-time cost per session week is approximately $5,000, depending on several factors.
Does Insurance Cover It? 
Unfortunately, most insurance providers do not cover intensive speech-language therapy, despite a solid body of peer-reviewed research that it works. There are a few exceptions, but most clients pay out-of-pocket. When broken down per hour of therapy, the cost is comparable to the cost of speech language therapy provided elsewhere.
What Does the In-Person Cost Include? 
Individual and group therapies.

Pre- and post-testing to show areas of growth and potential.

An individualized treatment plan with an approach specifically designed to maximize each client's time at the program.

Caregiver education and support.

Homework materials and app recommendations.

A comprehensive final report with detailed individualized treatment recommendations for once the client returns home.

Contact with your regular SLP or therapist to help ensure continuity of care and continuation of progress.
Access to a dedicated and experienced staff who go above and beyond for clients.
Also, it is important to note that the U-M Aphasia Program therapy is provided only by licensed, experienced Speech-Language Therapists at the Master's level or higher — many other programs have students who provide the therapy. We understand the importance of training the next generation of SLPs, and we also provide hands-on training for advanced-level students, but a licensed SLP is always part of the session and overseeing the client's care. 
Is Financial Assistance Available? 
Yes. We have several financial assistance options available. For example, we offer discounted sessions from December through March. Additionally, we have a generous financial assistance program for those who qualify. We offer part-time options to help accommodate different budgets, travel, and client ability (for example, if the client's stamina does not allow for the full intensive schedule).
Session Dates
The U-M Aphasia Program runs year round. We offer approximately one full session a month, typically 3-5 weeks long. In order to maintain the high quality and individualized nature of the program, each session has a limited number of spots available. If you are thinking about attending UMAP, please contact us and let us know when you would like to secure a spot as some sessions fill well in advance.
See the Session Dates and Rates page for more information and links to financial assistance forms.
Next Step
Are you ready to learn more about the U-M Aphasia Program or have some questions for us? Contact us at (734) 764-8440. We're happy to answer whatever inquiries you might have. If you are on the fence or unsure if our program — or any intensive program — is a good fit for you and your family, we can talk you through what considerations are important in making that decision.
If you are ready to take a step forward and would like to attend a UMAP session, you can get started with a secure online application. We also offer paper applications, if you prefer that. Click the button below to go to the application page with more information on what you need to apply and what happens once you submit an application.
Click Here for the UMAP Application Center