Stacy and Rhetta Johnstone 
Hometown: Ventura, California
Stacy and Rhetta Johnstone have been together for 40 years. "We kinda grew up together," said Rhetta. "It's always been fun being with Stacy." 
After Stacy's stroke in 2016 and subsequent aphasia and apraxia of speech, they've had to find "a new normal."  
The Johnstone's Story
Stacy, Rhetta and their family were on vacation near Yosemite National Park, enjoying time on a small lake, when something went wrong. Stacy was kneeboarding behind their boat when his facial expression changed and he gave the signal to stop. He fell into the water and their son jumped in after him. Stacy was feeling nauseous and his head hurt, so the Johnstones immediately navigated back to the marina and docked the boat. Stacy just wanted to rest, but they decided he should go to the hospital—just to be safe. 
"I drove him to this little urgent care," said Rhetta, "and it took forever, driving those winding roads."
From the small urgent care, Stacy was airlifted to a hospital in Fresno where they learned he had an aneurysm that had burst while they were on the lake. He was taken into surgery to repair the artery. His family waited anxiously, still in shock.
"We waited. And waited. And waited and it took forever, it took so long," Rhetta recalled.  
Stacy had a stroke in surgery and three days later, his brain began to swell. Following the strokes and swelling, Stacy couldn't breathe, swallow, or eat. He spent a month in Fresno working with physical therapists. 
Rhetta said they saw something special in Stacy––his determination––and they worked diligently with him. Because of their insurance coverage, the Johnstones needed to find another rehab facility directly after Stacy was discharged from the Fresno clinic. 
The Search for Therapy
Finding a rehab program was difficult. Stacy still had a tracheotomy tube to help him breathe and there weren't any rehab centers in their county equipped to admit him with it. They found a facility in Santa Barbara, a few hours away from home. Stacy began to relearn how to swallow, eat, and walk. 
After six weeks in the program, the Johnstones found the Centre for Neuro Skills in Bakersfield. Stacy shared an apartment, with 24-hour care available, with other patients who required similar support. During the day he attended speech therapy and physical therapy. In the evenings, they practiced life skills like grocery shopping, brushing their teeth, and changing clothes.
Looking for Teletherapy and Finding UMAP
Stacy made great progress and was ready to move to outpatient care. They found an option, but again had to drive extensively. It wore them both down. Rhetta, intent on finding a solution, began looking into teletherapy and discovered the U-M Aphasia Program (UMAP). 
"I thought, oh that's great, he can get teletherapy," said Rhetta. "We won't have to drive! It didn't quite sink in that we'd have to go to Michigan first."
UMAP does offer teletherapy for people with aphasia, but it is currently offered only to those who have attended at least one UMAP intensive session in person. While that may change in the near future, we will continue to work with clients and expand capacity as necessary.  
So, it was off to Michigan for them. Stacy took a little persuading at first, but "when we got there, he loved every single one of the therapists," said Rhetta. He felt that they were really invested in his recovery. 
Stacy benefitted from the intensive therapy. He gained confidence and began to speak more. Despite his previous inpatient, outpatient and a variety of speech therapy up to this point, UMAP was the first program he attended that gave him the intensity of  25 hours of speech therapy per week. Rhetta said they enjoyed that each therapist had their own style.
Now, Stacy receives teletherapy from a UMAP speech-language therapist twice a week from the comfort of his own home in Ventura, California. Home therapy works well for him, especially on the days when he's tired or not feeling well. He just has to make it to the computer. 
How did Rhetta know UMAP was a good fit for Stacy? During one teletherapy session with his UMAP clinician Liz, he said "I like you." 
"He doesn't say things like that," said Rhetta. 
Returning Home
When Stacy returned home to his regular Speech-Language Pathologist (SLP) — after a six-month hiatus during which he spent four weeks at UMAP, the SLP said she was "blown away" by his progress. Rhetta,  used to have to intervene multiple times during Stacy's therapy sessions so he could get his point across, but now he is able to communicate independently using multiple approaches. Rhetta, a former SLP, noted that Stacy's overall communication skills have increased and his speech "comes a little easier." 
Caring for Yourself as a Care Partner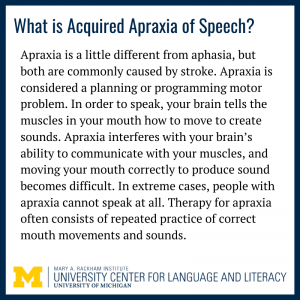 Stacy has severe apraxia of speech in addition to his aphasia. Apraxia is an impairment of the motor function needed for language production; the brain has difficulty coordinating the complex oral movements needed for speech. 
Stacy's stroke and apraxia have been "life-altering" for both him and Rhetta, but she focuses on feeling grateful that he's still with her. Being a care partner is hard work. Rhetta helps with speech therapy, PT, OT, all in addition to being Stacy's wife and care partner. She says it's easy to feel guilty for taking time for yourself, but it's necessary. 
"Try to balance some part of the day for yourself," she says.
---
Would you like to learn more about UMAP and intensive aphasia therapy? Please contact us at (734) 764-8440 to get the conversation started.