The University Center for Language and Literacy (UCLL) Clinic Manager Jennifer Corey was recently featured in a virtual panel discussion called Aphasia From All Sides: Experiencing, Treating, Caring. The panel was hosted by the University of Michigan Department of Linguistics as part of their Language, Disability and Neurodiversity Seminar Series.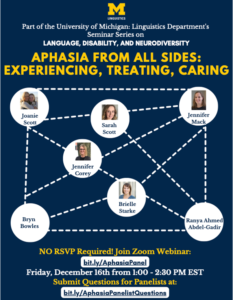 The Aphasia from All Sides discussion included a range of panelists who have experienced aphasia, care partners, clinicians, and researchers. Bryn Bowles, a former client of UMAP, was also featured in the panel.
Jennifer Corey, M.S., CCC-SLP, is a Senior Speech-Language Pathologist and is the Clinic Manager at UCLL. She guides all of the speech-language programs and the daily operations of the clinic, including the U-M Aphasia Program (UMAP). She has been a Senior SLP at UCLL since 2008.
During the panel, Jennifer discussed the role of care partners, how she works with clients across different contexts and backgrounds, tools and resources for working with clients, and more.
Check out the entire panel here.
---
About the U-M Aphasia Program and UCLL
The University Center for Language and Literacy (UCLL) is committed to helping people of all ages find meaningful ways to communicate. UCLL is part of the Mary A. Rackham Institute (MARI) at the University of Michigan. MARI provides high-quality, individualized mental health, neuropsychological testing, and language and literacy services to the community through its service centers, including UCLL, University Center for the Child and Family (UCCF), and University Psychological Clinic.