UPDATE: Tyler completed the Chattanooga Ironman in just over 12 hours, on Sept. 26. He finished #37 in his age group, an impressive showing! Tim and Laurie were at the finish line to help him celebrate this major accomplishment.
A typical day for Tyler Thomas is bookended with moving his feet, whether that's on pavement, pushing pedals, or scissor kicking through water. At 5 a.m., it's time for a morning run or a swim. As the day closes out, Tyler jumps on a bike or heads out for a run. Tyler, who works as a pilot based out of North Carolina, is — in a word — motivated. Tyler will be competing in the Ironman Triathlon in Chattanooga, Tennessee on Sept. 26, 2021. 
When he first started participating in triathlons two years ago, Tyler was driven by a want to get outside and a finely tuned competitive side. He started with running and cycling, adding in swimming, and eventually working his way up to competing in shorter-length triathlons with his fiancé, Alea.
As a Marine Corps Veteran who grew up playing hockey and football, athletic challenges were not new to Tyler. In 2020, he spent 12 to 14 hours a week preparing for a Half-Ironman. In the midst of training, he received news that would change his scope and motivation. 
His close family friend, Tim Wadhams, had a stroke and was subsequently diagnosed with aphasia. Aphasia is a communication disorder that affects a person's ability to speak, read, write, and/or comprehend language; sometimes it affects one aspect and sometimes it affects all aspects of language communication. There are several types of aphasia that can range in severity. 
Forming a Support System
Tim has been a large and influential presence in Tyler's life. Tim worked his way up to CEO at Masco Corporation, a Michigan-based company comprised of home improvement brands Delta, Behr, Milgard and Watkins, among others. Tim and Tyler's lives intersected through Kim Thomas, Tyler's mother. Kim worked with Tim for nearly 30 years as an indispensable assistant before he retired from Masco, and she has continued to work with the Wadhams related to their foundation.
Tyler decided to dedicate his next race to the man he and his brothers call "Uncle Tim" after seeing him navigate the challenges of a long recovery process. 
"Tim has done a lot for me and my family, and I wanted to do something to give back to him," Tyler said. 
"It was very much a 'proud mom' moment for me," said Kim, when Tyler told her what he was doing. 
Tim and his wife Laurie Wadhams said they were also proud of Tyler and what he was setting out to accomplish, but it wasn't surprising, given his drive and connection with the family. 
"I believe Kim was pregnant with Tyler when she began working with me," said Tim. "I have seen him grow up and take things on, like this. He's got a long day in front of him — I commend him for putting in all the time and effort." 
"We are very touched," said Laurie. "I know that Tyler adores Tim and loves triathlons, so that wasn't a surprise. But that he would focus on doing this in Tim's honor — it was moving."
A Test of Resilience and Endurance
The Ironman Chattanooga is a triathlon, but even among triathlons, Ironman races are extreme with a 2.4-mile swim, 116-mile bike, and 26.2-mile run. To put that in perspective, participants navigate through miles of choppy, open waters alongside other competitors, equivalent to 160 lengths in a regular-sized pool. They then bike a distance that could take one from New York City to Philadelphia (and then some). It's topped off with a full marathon.
Similarly, coming back from a stroke is not for the faint of heart. Often the physical aspects of stroke recovery are challenging enough. Add in the emotional and cognitive challenges, like those that come with aphasia, and it could be considered a triathlon of the human spirit. And just like an Ironman, it takes practice and training, building muscle, and resilience. 
"On days when Tim is frustrated with how long his recovery is taking, I have to remind him that his recovery is not linear, and that he is still extremely intelligent," said Kim.
"I reiterate that our brains are powerful muscles, and his is retraining to find new pathways around the damage."
A Race for Aphasia Awareness
Tyler said at first he was going to do the race in Tim's honor, as a way to show solidarity with overcoming challenges and pushing himself. But it transformed into something bigger.
"When I started reading up and learning about aphasia, it opened up a whole different side of it that not a lot of people actually know," Tyler said.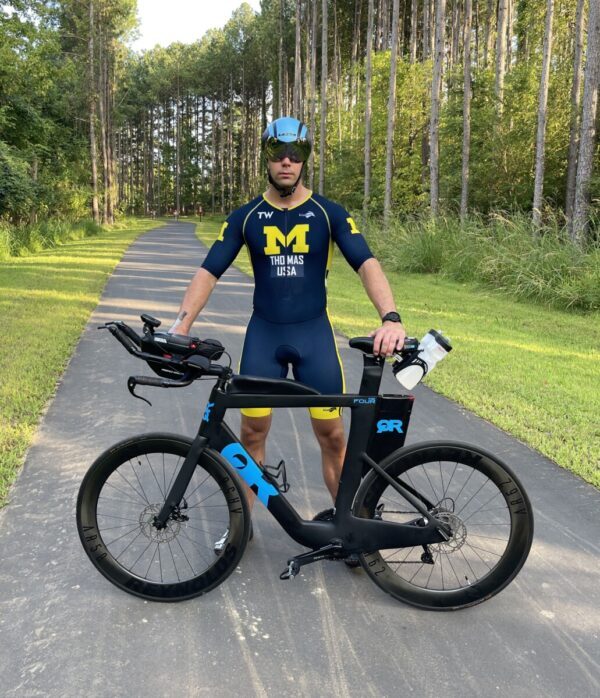 Tyler, like most people, was unfamiliar with the term aphasia until he learned about Tim's condition. Aphasia has an awareness problem: more than 86 percent of those who were asked had never heard the term, according to the 2020 National Aphasia Association (NAA) awareness survey. However, more than 70 percent of respondents indicated there was a connection between language and speech issues following a stroke or head injury. In other words, people are generally aware that something happens to a person's ability to communicate, but they don't know it's called aphasia. 
An estimated 30-40 percent of people who have a stroke acquire aphasia. More people in the U.S. have aphasia than other common conditions, including cerebral palsy, multiple sclerosis, Parkinson's disease, and muscular dystrophy — combined. 
Following his stroke in 2020, Tim was in the hospital for a month. Laurie said his language usage was severely limited in those early days. "He's come a long, long way," she said. "Every day he is improving."
Tyler, recognizing the impact aphasia has had on Tim's life and what awareness of the condition could do for others, decided to focus on raising awareness and money to help provide access to aphasia treatment. 
"The ability to communicate and to tell people how you feel and what you're doing — I think we take it for granted," Tyler said. 
Looking for an online pharmacy? You've come to the right place! At our pharmacy andreasapotek Andreas Apotek, you can order viagra generic, cialis generic, and levitra without a prescription. We offer fast delivery and the best prices on the market. Plus, we sell kamagra, which is a popular treatment for potency. So what are you waiting for? Order your drugs today!
To take on aphasia awareness, Tyler started a fundraiser with the support of his mom, fiancé, and extended network. 
"Tim has helped so many people over the years that, as soon as people hear his name, they're just like: 'We want to do something for him,'" he said. 
Following Tim's stroke, Kim said so many people asked what they could do to help. 
"This was a way for individuals  to be able to give back to a man  who has been the most generous person we have ever encountered," she said. "Not only that, but younger generations tend to have a negative reputation in society of being self-centered which is not the case. Tim's positive example of how he lived his life has always been a high bar that my boys aspired to replicate in their own lives — so for Tyler to put this together, he's doing good not only for Uncle Tim, but hopefully others will see this and benefit from it as well."
Getting Access to Aphasia Resources
The contributions made through Tyler's GoFundMe will be donated to the University of Michigan Aphasia Program (UMAP). UMAP, the oldest aphasia program in the nation, pioneered the intensive, individualized approach to aphasia speech-language therapy and remains one of about 12 intensive, comprehensive aphasia programs (ICAPs) in the world. 
"I attribute maybe 90 percent of his progress to being able to join the U-M Aphasia Program and the sessions he took — that combined with his will to get better has made a tremendous difference," said Laurie.
Tim said the program has helped him progress and that he would encourage others with aphasia to be as engaged as possible right away in their recovery. He recognized that not everyone has access to aphasia resources, which make Tyler's efforts that much more essential.
"We certainly feel good about Tyler doing this on my behalf, setting it up and doing something tangible. It's a chance to support a program that makes a difference," said Tim.
Crossing the Finish Line
As he continues to train for the upcoming race, Tyler demonstrates his own perseverance. He says he is pushed by his competitiveness, as well as the strong support from the fundraiser and his loved ones. Tyler set out to raise $10,000 and has already exceeded that goal. But more support helps bring about more awareness and access to aphasia resources and treatment for those in need. 
Nationally there are more than 2 million people with aphasia, yet getting access to high-quality, intensive care and resources to help in aphasia recovery can be difficult. Most insurances do not support therapy beyond 1-2 hours a week for a limited period of time, and the emphasis on stroke recovery is generally focused on physical rehabilitation. However, research shows that with intensive, individualized speech-language therapy many people with aphasia make measurable gains, regardless of how long it has been since they acquired the communication disorder. 
Tim and Laurie will be cheering Tyler on alongside Tyler's family that resides in Chattanooga. Tim will have the opportunity to meet him at the finish line to award him with a medal when Tyler completes the race on Sept. 26, 2021. 
Ways to Support Tyler's Race for Aphasia Awareness
---
About the U-M Aphasia Program and University Center for Language and Literacy (UCLL) at MARI
The University Center for Language and Literacy (UCLL) is committed to helping people of all ages find meaningful ways to communicate. UCLL is part of the Mary A. Rackham Institute (MARI) at the University of Michigan. MARI provides high-quality, individualized mental health, neuropsychological testing, and language and literacy services to the community through its service centers, including UCLL, University Center for the Child and Family (UCCF), and University Psychological Clinic.
Questions or media interest in this story? Contact: Stephanie Ariganello, Marketing and Communications Specialist at MARI – stephaa@umich.edu.