In the midst of the pandemic, parents have been faced with the challenge of balancing personal and professional life. In addition to the work strains, studies have found that women were disproportionately affected by mental load and impacts on daily life in the early months of the pandemic. Erin Hunter, Ph.D., interim director of the University Center for the Child and Family (UCCF) at MARI, provided her insight into how to manage these pressures in an interview with WXYZ, Channel 7 Detroit. Dr. Hunter will also be interviewed for the Action News broadcast 7 p.m. on Friday, March 12, 2021, expanding on her comments from the interview.
Striking the "Perfect" Balance of Work and Family
During what is already a stressful time, many parents have had to work from home. On top of this, learning to navigate working-from-home life and your children's virtual education can be overwhelming. Dr. Hunter, who is a mom herself of two kids, shared her own experiences.
"I have broken down into, like, all out ugly sobs more than once over the last year," said Hunter. "And it's because it is in fact too much. It is overwhelming to our coping abilities. And that doesn't mean that we are weak, that doesn't mean that we're not doing a good job. It means we're actually paying attention to what's going on and it's going to get better."
Hunter said the "ideal mom" that some mothers feel like they need to live up to is unrealistic. Instead, she encourages mothers to take some time for themselves. She aligns it to the oxygen mask instructions on an airplane: put the mask on first before helping children get theirs on properly.
To read more, see: 'I felt like a failure.' Motherhood in the pandemic, one year later on ABC's WXYZ Detroit.
Dr. Hunter is a licensed clinical psychologist with expertise in a variety of evidence-based psychotherapies for children, adolescents, and families, including parent management training, cognitive behavioral therapy (CBT), and acceptance and mindfulness treatments. She received a Ph.D. in Clinical Child Psychology from the University of Washington, completed an internship at the University of Rochester Medical Center, and came to Michigan for a postdoctoral fellowship in clinical child psychology at UCCF. She became interim director of UCCF in 2020.
Additional Resources for Parenting in a Pandemic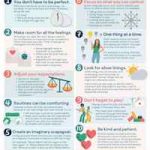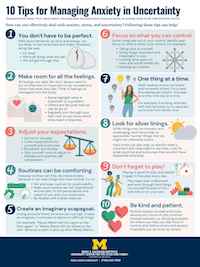 10 Tips for Managing Anxiety in Uncertain Times: An Infographic (PDF)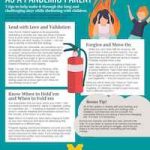 How to Survive a Difficult Day as a Pandemic Parent: 3 Tips to Make it Through (PDF)