The University Center for the Child and Family (UCCF) has created new resources for parents, families, and individuals to help deal with anxiety and challenges during pandemic times — or any time of uncertainty and stress. The resources are meant to be posted, shared, printed and referenced as needed, to help promote good mental hygiene, now and during other challenging periods in life.
10 Tips for Managing Anxiety in Uncertainty
An infographic-style overview of 10 actions anyone can take during challenging times in their life to help deal with anxiety and promote their mental health. For example, tip #1 is that you don't have to perfect — it's okay to feel things, to feel spread thin or not at your best at all moments. Give yourself permission to make "mistakes" and move on.
10 Tips for Managing Anxiety: Flyer size (PDF)  |  Poster size (PDF)
---
3 Ways to Survive as a Difficult Day as a Pandemic Parent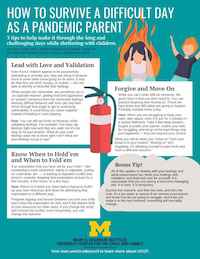 This publication provides three suggestions (plus a bonus tip!) on how to make it through the sometimes long and challenging days of sheltering in place or parenting during a time of global and local uncertainty. Of course, this is pandemic-focused, but the tips apply to parenting in general, particularly when spending longer days at home during school breaks.
3 ways of Surviving: Flyer (PDF)