The Mary A. Rackham Institute's University Center for the Child and Family (UCCF) and the University Center for Language and Literacy (UCLL) brought the magic of beloved children's book characters Elephant and Piggie to the KidZone Tent at the Ann Arbor Summer Festival on June 19.
The MARI centers chose Elephant and Piggie books as the theme because of how they represent emotion and connection, as well as how they promote literacy. The characters show that there is no one way to be "normal" and that being different is okay. 
Activities included a hand puppet station where kids could choose to make a rendition of Elephant or Piggie. A photo board with face cut outs allowed kids (and adults!) the chance to get a photo as Piggie or Elephant. Kids also gathered on the lawn for readings of Let's Go for a Drive!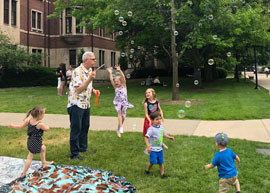 Throughout the evening, kids and their parents had the opportunity to relax on the lawn, read Elephant and Piggie classics of their own choosing, chase bubbles, make new friends, and learn more about the services MARI has to offer for children and families. Thank you to everyone who came and visited us! 
See photos: MARI Facebook Album.